Re-purpose and recycle before you discard it as junk.
Today, the fashion industry is growing fast and wide, each day. There were times when trends were introduced annually, but now it is a weekly thing. Your favorite brands introduce new lines of clothing, if not every week then every month. But, you ever realize how much energy goes into making a single piece of clothing? Do think, next time you wanna wear one dress to a party and swear to never wear it again.
Fashion industry causes a huge amount of carbon emission, even more than transportation industries. Here's a video to explain better.
So, here's a few ways to make the most out of the clothes you buy:
Before you impulsively buy an outfit ask yourself if you're gonna wear it at least 30 times.
Normalize repeating your clothes
If you need an outfit to only wear once, borrow or rent.
When you clean out your closet, donate the clothes which are still in good condition.
Lastly, re-purpose your clothes.
Re-purpose Old T-shirts
1. Dog Clothes
I have two dogs, and the first thing I do with my old t-shirts is re-purpose them into dog clothes. They look cooler than the clothes I'll buy for them, saves money I'll spend on dog clothes and gives my dogs a variety of clothes. It doesn't even require much work, I just put their front paws into the sleeves and that's it. If the T-shirt is too long then I tie a knot at it's end to fit, looks cool. But, you can also cut and stitch it at the hem adjusting to your dog's size. These are useful when the weather has only started getting cold. When it's colder you can do the same with sweaters.
And even if you don't have a dog, there are a lot of dogs in the streets who can use a little protection from cold. Help them!
2. Baby Clothes
It is very easy to turn old t-shirts into either t-shirts or dresses for babies.
All you need to do is take a string of elastic and thread it through the t-shirt's neckband and same with the sleeve hems. Stitch the elastic close once it's all the way through, do not cut it before-hand. Then turn the t-shirt inside-out, use another piece of child's clothing to determine the size and sew the new seams accordingly.
It could be a t shirt dress, or a night gown. Depending on the condition of your T-shirt. For a twist, you can also stitch it into a flare or add a ribbon or elastic at the waist, too.
3. Tote Bags
Since, we're on the subject of being environment friendly. Remember the article about sustaining a more environment friendly lifestyle? If not, here it is
I talked about the never-ending use of plastic bags, so this way you can make as many reusable bags as you want. And also re-purpose your old clothes.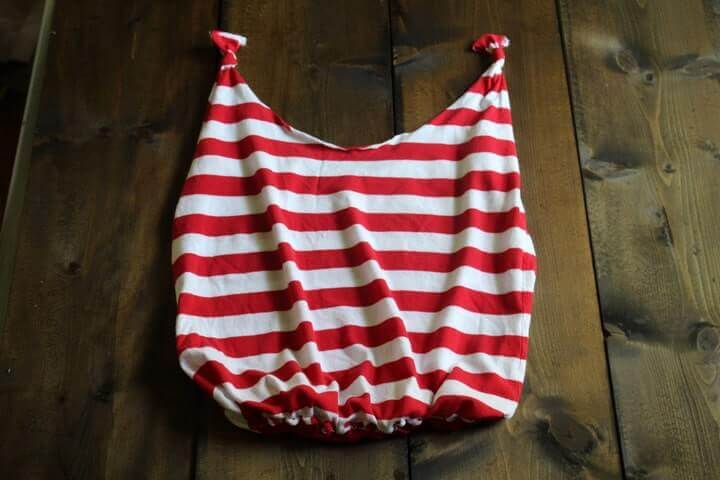 You can turn your t-shirt into a bag without even having to stitch. All you have to do is, cut-off the sleeves and cut around the neckband if you need a wider opening. Then cut up fringes at the bottom and tie them into knots. Your bag is ready. You can go all out and stitch the bottom instead of knots and even sew-in a zipper. But, that is your choice.
4. Dog Toys
All dogs love chew-toys and especially the rope-ones. And they are pretty simple to make, as well. Take two different colored t-shirts and cut them into 2-3″ wide strips. Gather your t-shirt strips and tie a knot at one end. Divide your strips into three and braid them together. Once you have braided to the other end, tie another knot and viola!
5. Scrunchies
This is one of the simplest and most useful DIYs. Every girl I know buys hundreds of scrunchies and loses just as many. Cut up two small strips from your t-shirt. Turn them inside out and sew them lengthwise. This will form kind of a tube. Take an elastic of about 8-9 inches and put it through the tube with a safety pin. Tie both ends of elastic into a knot and sew the ends of fabric together, neatly. You can make these with any fabric, including jeans.
Re-purpose Old Jeans
1. Shorts
This is the simplest thing. I could've even skipped this part but it is my favorite thing to do with old jeans and it is so easy. For a fact, I have never bought denim jeans. All I do is, cut-up my old jeans, you don't even need to re-stitch the hem, the fringey-look is cool for denim shorts. You can always add paint or bedazzle a pocket if you want.
2. Denim Skirt
It isn't as simple as the shorts, because it involves stitching. But it isn't all that complicated either. First step is similar, determine what length you want your skirt to be and cut. Then, you need to cut off the inner seams of the legs from the front and behind. Turn it inside out and sew-through. To sew the hem or not is completely your choice.
Here's a video if you need some visual aids.
3. Rugs
You can also make rugs out of old T-shirts in the similar way. Making rugs may be more time taking but there are so many types of rugs that you can make. All you have to do is cut-up your denim into pieces depending on what kind of rug you want and sew them together. Re-purpose the leftovers from making the shorts and skirts. Here are a few pictures, which are pretty self-explanatory.
You can use different colored jeans, only certain parts of different pairs, or cut them into a specific shape and sew it together.
Or you can cut it up into strips and make a braided rug. It would take up more time and work but, if you are a DIY-enthusiast. Who is going to stop you?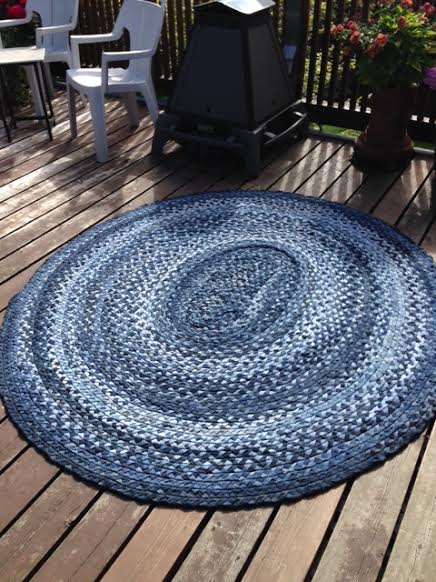 4. Denim Cup Holder
In the article I linked above about a sustainable lifestyle, I talked about discarding one-time use items. Disposable coffee-cup cozies fall into that category. You wanna start bringing your own coffee-mug, might as well make yourself a coffee-cup cozy.
Just cut up a piece of denim from your old jeans and size it with your mug. Cut and stitch the seams. And there you have it, washable, reusable and fashionable. A cup-holder serving fresh looks!
There are hundreds of thousands of DIYs to re-purpose your old clothes on the internet. These are few that I found very easy and useful on a daily basis.
So try them out.
Leave a comment if you find them useful.
CREATE EPIC SHIT!